THE HUDS AND TOKE AMBASSADORS ARE IMPORTANT MEMBERS OF THE HUDS AND TOKE TEAM.
All of us, as part of the Huds and Toke Family, including our ambassadors, are striving to Create Awesome Memories with the pets in our lives by treating them brilliantly. We are all part of a movement in bringing joy to the world through pets and animals.
The Pet Treats we create are the best in the world with our Gourmet Dog Treats being recognised as some of the most innovative products that can be found anywhere on the planet.
It's a movement, and a message, we are constantly communicating and we all live by it. If you want to be part of this movement, feel free to join the Huds and Toke Family.
Regardless where you are in the word, if you want a better place, a better community, and more joy in your life, pets, or all sorts, can help achieve this.
The Huds and Toke movement is not only in Australia, it's in Japan, Germany and Europe, Sweden, USA and other parts of the world as well.
Pet people are pet people the world over. Through pets, we can make a difference.
If you are interested in becoming an ambassador, feel free to contact us and we can expand what the criteria is.
Introducing the Huds and Toke Ambassadors - Dogs:
Eddie and Sam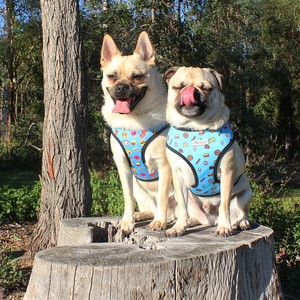 Human name: Jane
Dog 1: Eddy
Breed: 3/4 Pug & 1/4 Chihuahua
Age: 1 year 10 months
Favourite Toy: Tennis balls - he'll stop eating if you bring one out!
About him:
Growing up, I had a pure bred pug called Muffy who unfortunately passed away prematurely from cancer.
I waited 8 years before I felt ready to welcome another dog in my life. I had a look around the shelters, but deep down I knew I wanted a pug... but I couldn't bring myself to get another pure breed pug as it felt like I was replacing Muffy.
Eddy, being 1/4 Chihuahua was the perfect choice - he was the naughtiest one of the litter but boy am I glad I chose him (or should I say he chose me)! He is the absolute love of my life even though he can be a handful at times!
Dog 2: Sam
Breed: Pug & Pomeranian
Age: 1 year 3 months
Favourite Toy: Anything that Eddy is playing with...
About him:
I wanted another dog pretty soon after I got Eddy, but resisted getting another because Eddy was still so young.
I also didn't know if I could deal with the puppy stage again! I saw Sam's litter being advertised when Eddy was around 9 months of age, and REALLY wanted one from that litter, but I didn't feel like I could deal with two puppies at the same time.
Fast forward 6 months later, one of the people who had originally purchased a puppy from that litter realised she didn't have enough time for a dog, and so advertised him online - as soon as I saw the ad, and confirmed that Sam (then called CoCo) was from that same litter, I drove an hour at 9pm at night and took him home. And never looked back!
Bronson, Sophie, Lulu, Eddie: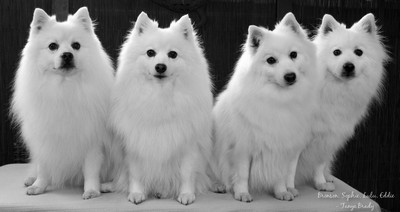 Human Name - Tanya
Dog Name - Bronson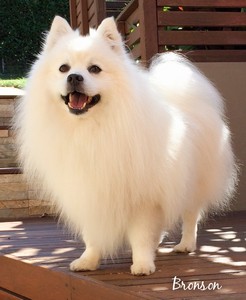 Breed - Japanese Spitz

Age - 8

Favourite Toy: Bronson prefers treats over toys, but loves to parade around with a soft toy in his mouth in excitement when we get home from work.

About them: Whilst looking for a samoyed puppy, I came across this gorgeous breed that we'd never heard of - the Japanese Spitz. A miniature version of the Samoyed, and the perfect size for our home. We visited a breeder to look at the puppies and it was love at first sight! That day, we came home with our little man, that we decided to name Bronson. My beautiful boy started my passion for this gorgeous breed, he's like the lion king, protective but a big Mummy's boy that is always by my side. He's my heart dog, and his beautiful bear face and big gorgeous smile are contagious.
Dog Name - Sophie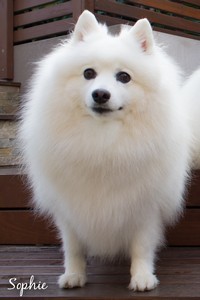 Breed - Japanese Spitz

Age - 8

Favourite Toy: Sophie loves her soft toys with squeakers in them, that she can squeak to her hearts content & toss around.

About them: Sophie came into our lives when she was a 7 month old puppy, she was the perfect companion for Bronson & they became best friends immediately. She is a gentle soul who loves a smooch is always available for a cuddle. An active, playful, independent little girl, and a massive sweetheart!
Dog Name - Lulu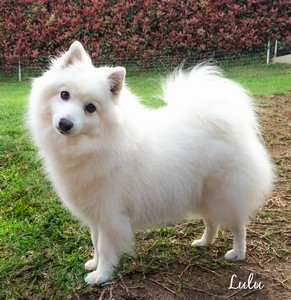 Breed - Japanese Spitz

Age - 6

Favourite Toy: Lulu loves mini balls - she is a superstar at catching them, loves playing fetch and loves them even more if they have a squeaker in them!

About them: What is better than having two gorgeous Japanese Spitz dogs?....Having 3! We loved our Bronson & Sophie so much that we decided we wanted another little girl puppy to add to our family. Lulu was the shy little doll puppy that turned into a big personality. She is a real character, a fun-loving pocket rocket with crazy, cute, funny, sweet, playful nature. She's our cute little chicken that makes us laugh and smile everyday!
Dog Name - Eddie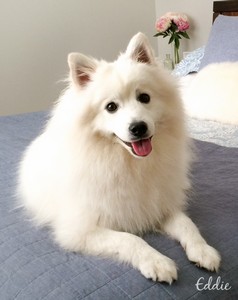 Breed - Japanese Spitz

Age - 2

Favourite Toy: Lulu is his favourite 'toy' - but if he's not wrestling with her or biting her ears, he likes to play with a soft squeaky toy (and pull the stuffing out lol).

About them: Have I mentioned this breed is addictive? Eddie is the son of Bronson & Lulu and human mummy fell in love with him from the day he was born. He's the baby of the family and like Bronson, a big mummy's boy. He's a total sweetheart that is always by my side & a big floppy playful puppy with loads of love to give.
MacGyver:
Human Name - Bente Dubnitzki
Dog Name - MacGyver
Breed - Border Collie x Kelpie
Age - 2 y/o End of November
My old dog Nelson has the best character l ever came across, but he's getting old. I retired him from competitive Dancing with Dogs and was looking for a purebred Border Collie to do dancing with and have him trained by Nelson.
That's how l saw MacGyver on Gumtree. He was only 8 weeks old and already a rescue. I fell in love ... and he was the most difficult dog I've ever had.
He was born into a dark shed with only other puppies and a farmer who threw food ihn ones a day.
MacGyver came with all issues , a puppy can have if not good socialized. Plus her was fearful and had a tendency to aggression. That's all gone now, but involved more then a year of intensive training.
I love all my dogs, but MacGyver is very special to me.
Chewie and Jax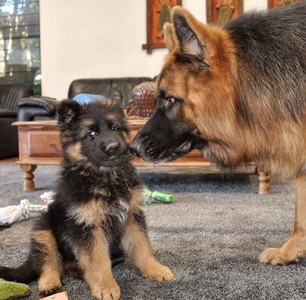 Human name: Tracy
Dog Name : Chewie (Chewbacca)
Breed: German Shepherd
Age: 2
Favourite toy: frisbee
About :
We searched all the german shepherd breeders & found a picture of Chewies dad Monte (who looks like Chewbacca) & we fell in love with him! We waited over a year for Chewie as the breeder was mating other dogs at the time. Chewie was well worth the wait! He's truly one of a kind & I love him to bits.️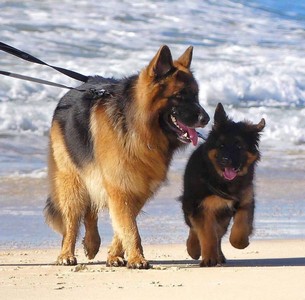 Dog Name : Jax
Breed: German Shepherd
Age: 4.5 months
Favourite toy: is Chewie
About :
We've always had 2 german shepherds & we wanted to get Chewie a little brother. Jax is from the same kennels as Chewie but they are not related. I just love him so much, he's so adorable & always happy.️