The Huds and Toke Ambassadors are important members of the Huds and Toke team.
All of us, as part of the Huds and Toke Family, including our ambassadors, are striving to Create Awesome Memories with the pets in our lives by treating them brilliantly. We are all part of a movement in bringing joy to the world through pets and animals.
The Pet Treats we create are the best in the world. Our Horse Treats are some of the most innovative in the world, with Huds and Toke Horse Training Treats being the leading Horse Treat supplier in Australia.
It's a movement, and a message, we are constantly communicating and we all live by it. If you want to be part of this movement, feel free to join the Huds and Toke Family.
Regardless where you are in the word, if you want a better place, a better community, and more joy in your life, pets, or all sorts, can help achieve this.
The Huds and Toke movement is not only in Australia, it's in Japan, Germany and Europe, Sweden, USA and other parts of the world as well.
Pet people are pet people the world over. Through pets, we can make a difference.
If you are interested in becoming an ambassador, feel free to contact us and we can expand what the criteria is.
Introducing the Huds and Toke Ambassadors - Horses:
Ambassador - Katt Blakemore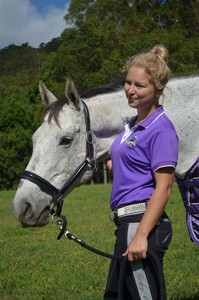 22 years old baised on the sunshine coast
My horse is "Black Leg Sanji"
He is a 10 years old

Off the Track Thoroughbred
We compete in Dressage,Showjumping and Eventing.
Sanji came into my life 2 years ago after he retierd race from heath Issues. After getting his health back and overcoming a few more issues we are on track to becoming champions.
Favourite food
Favourite quote:
"Train like you've never won, perform like you've never lost."
Ambassador - Jess Falconer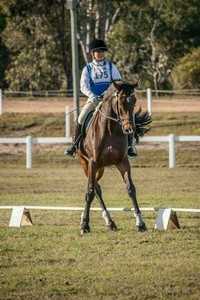 Horse Name:
Armadaus Bonaparte Dancer
Breed:
Age:
I train in:
Favorite Food:
I met warrior 2 years before I bought him.
The girl was scared of him and asked me to hop on and at that point I told her that she has one hell of a horse. He was a big mover and I knew with the right work he would be an amazing dressage horse. We went our separate ways and it wasn't until 2 years later that she got in contact we me and she she couldn't handle him anymore. He was attacking her stallions and no one could get near him.
I jumped at the opportunity and had him on a transport truck the next week.
The horse that was unloaded to me was the saddest day for me.
To see what this beautiful animal had become was devastating. He was so skinny, I couldn't ride him for 4 months because he was so malnourished and dehydrated.
It broke my heart.
I fattened him up and gave him all my love and attention... And from that point he has taught me so much, pushed every one of my buttons, and made me question why I got into horses but without him I would not be where I am.
Favourite quote:
"You tell a gelding! You ask a stallion. And you contemplate it with a mare!"
And for this reason I only have geldings!!!
Ambassador - Nadine Lindblom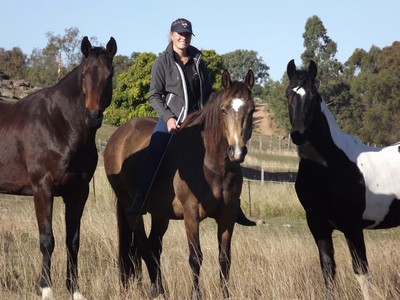 Horses' Names:
Breeds:
TB, QH x Arab/ASH, Friesian X Paint
Ages:
Discipline:
Liberty, Trick Training, Academic Art of Riding
My favourite food:
My horses' favourite Huds &Toke Horse treat:
About the horses:
I rode Calli a couple of times at my riding school. When the instructor decided to shut down the riding school and sell all the horses, I bought Calli! Now we have been together for almost 9 years and WOW what a journey she has taken me on!
I met Nina when I was looking for a project horse. My went to look at a green-broken gelding but I ended buying his young unbroken sister which was Nina! Nina was the first horse I ever started. Now we have been together for about 5 years and she still amazes me everyday!
One day I bought a Horse-Deals magazine... just to kill some time while I was waiting in town. I flicked through it and saw Ty advertised and I knew I had to meet him! A month later we brought him home. We have only been together for a year and a half but he has already taught me so much! He is the most fun horse to work with due to his playful and proud personality!
Favourite quote:
"All our dreams can come true if we have the courage to pursue them" ~ Walt Disney
Ambassador - Jasmin Smith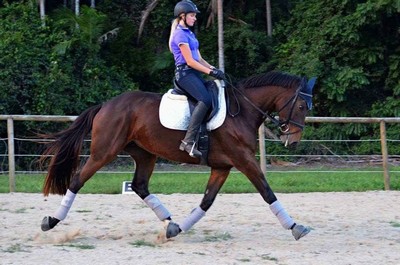 Horse names: Fiesta
Breed: Dutch Warmblood
Age: 7
Discipline: Dressage
Favourite food:
Lasagne (human)
Huds and Toke Horse Treats - Coconut & Turmeric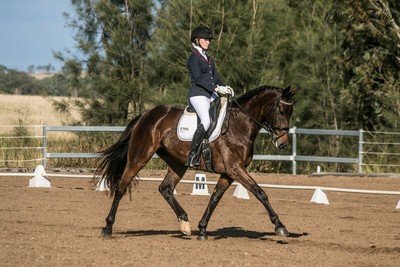 About them:
Fiesta was bred by my instructor so I have known her since she was a foal! I was looking for a new horse and not having much luck when Arian suggested I try Fiesta, her green-broken 5 year old. I had only ridden as many dressage tests as you can count on two hands when I got Fi and we have made so much progress as a team. It is such a rewarding feeling to train your own horse and when you start to see results it gets even better. We hope to make it all the way to the top and compete internationally!
Favourite quote: Only when you are not afraid of failure can you succeed
Ambassador - Tayla Naumovski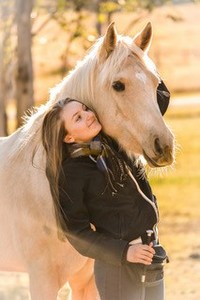 Horse name: Marley
Breed: american quarter horse
Age: 4
Discipline: Liberty Haute Ecole
Favourite food: horse's favourite Horse Treat - carrot bix definitely!
About: Marley was my third horse. He came into my life at the end of a long lasting search for a quarter horse. After almost two years of searching I came across his ad. His beauty astounded me and I just knew he had to be part of the herd!
Favourite quote: "I can never believe that I, have the right to command you.. merely because I am older than you or I have seen more things compared to what you have. My claim tooter power another being depends on the use I have made of my time.
Ambassador - Brianna Phillips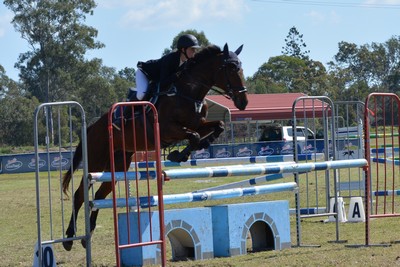 Horses name: Rocco, Hilly and Twiggy
Breed:
Rocco – Welsh x QH

Hilly – Thoroughbred

Twiggy – TB x Arab
Ages:
Rocco – 19

Hilly – 9

Twiggy – 26
Discipline:
My heart lies in show jumping, however I also compete in dressage, combined training, eventing and sporting.
About them:
Rocco is my little champion pony. He may only be 14hh and 19 years old, but he really is a little gun. Rocco tries his heart out with everything and never ceases to amaze me. Our biggest achievement would be recently winning the NSW Show jumping championships.
Hilly would have to be the most chilled out, 'go-with-the-flow' thoroughbred! I flew to Mackay last year to go look at him and just had to get him! Since then, he has taken me up the grades to start competing 1.10m+ this year. Hilly and I also perform in firework/monster truck shows, and it does not phase him at all!
Twiggy was my first horse that I got 6 years ago, and boy has it been a journey with blood, sweat and tears! Twiggy has been such a challenging horse, however she made me into the rider that I am today. Although she is 26, she is still the hardest to ride out of the 3 because she still acts like a 2 year old! Because of her age, I do not compete her anymore, but our main focus is liberty horsemanship.
My favourite food:
Kebabs!!
Horse favourite food:
Any of the Huds & Toke Horse treats for sure...... Especially the Apple Horse Bix
Favourite quote:
"Shoot for the moon. Even if you miss it, you will land among the stars" – Les Brown
Ambassador - Kalani Siggs: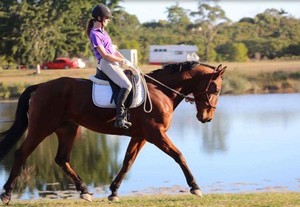 Horses names: Elvis, Midas and Windancer
Breeds: Elvis is an 8 year old Thoroughbred, Midas is an 8 year old Andalusian x Warmblood and Windancer is a 10 year old Quarterhorse
Training: I mostly train for dressage on Midas but also compete in show jumping and sporting with Windancer and Elvis
Fav Food: any type of fast food
My horses favourite Huds and Toke Horse Treat would have to be the Unicorn cookie, all my boys go extra crazy for them!
About:
Windancer was actually a rescue horse. We got him as a yearling who was dying from a paralysis tick. Weeks of treatment and a lot of money later he's now the kindest soul who everybody adores. Elvis was an OTTB. He was very shy at first, was jumpy and unsafe. After almost three years he is now thriving as a part time school horse along with being my backup competition horse! Midas was transported from a town just out of Sydney to my place on the Sunshine Coast. It was a lot of stress to get all the money together to afford him and I couldn't have done it without the help of my parents and friends. For that, I'm thankful!
Favourite quote of all time is "you're either going to the hospital or getting back on".
Ambassador - Amber Mactaggart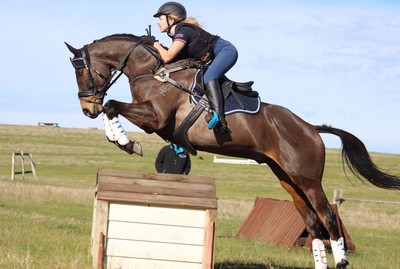 Horse name, breed & age:
Eli - OTTB, 5yo

Blue, Arab X, 8yo
Discipline: Eventing & Showjumping
Favourite food:
Mine: Pasta (any kind usually!)

Horses: Huds and toke Horse Treats! Especially the carrot cookies!
How they came into my life:
Eli came into my life after seeing him with his previous owner and I always thought how gorgeous he was and how great he seemed, so when he went up for sale I hounded my grandparents & a couple of months later he became mine! Unfortunately in quite terrible condition & very green, but he's fully recovered and climbing the levels of eventing now! :)

The family that blue came from, I had previously bought their old horse whom didn't work out for me, so they mentioned to me about blue which we went & tried him, he bucked me off and then yawned in my face while I was on the ground on the very first ride! But something told him I still wanted him and we haven't looked back since! :)
Favourite Quote: "If your dreams don't scare you, they aren't big enough"