Posted by Russell Gibbons on 27th Oct 2020
Pets and Halloween sometimes Don't mix! Here are 5 Ideas to think about on Halloween!
1. People Will Be Knocking on Your Door. Dogs will Bark.
This is something to simply accept regardless of your thoughts on the validity of Halloween.
Kids, as well as adults will be knocking on your door or ringing the doorbell, or even, the complete unaware people who just walk straight into your yard regardless of the "Beware of Dog" sign!
Understanding this, if you have a dog which jumps or barks, or is even rather protective, perhaps it's better to simply put them in a safe room in the house for the evening.
That way they are less likely to get stressed by barking at multiple doorbells or worse, hurting someone.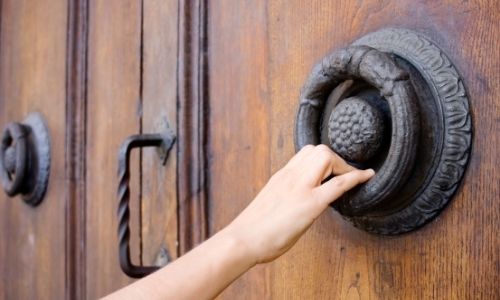 2. DO NOT let your Dogs eat Chocolate!
Infact, all high sugar treats are unhealthy for your dog. However, Chocolate can be lethal.
You know there will be trick-or-treaters coming to your door and if you are like most people you will have a little stash of goodies ready.....
Or, alternatively, you are the trick-or-treater and will be coming home with a bucket full of treats......
Make sure on both counts, you are conscious of where those treats are and ensure that they are out of the way of your pets.
Plus, make sure the exuberance of any little tricksters in the house doesn't overflow to your family dog by mistake.... no one needs a trip to the vet on Halloween.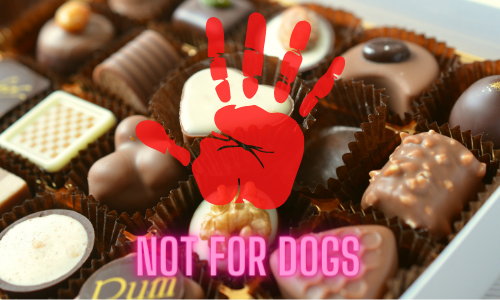 3. Don't let your Dog run out onto the street.
You know that your door is most likely going to be opened and closed more times than normal on Halloween.... So keep this in mind and ensure that your pets are secured from dashing out of the door unexpectedly.
Also accept, that many kids are not as pet aware on someone else's doorstep as they might be at their own home. By this I mean that little ones are prone to standing in the doorway or front gate way rather than going through it and closing it behind them..... This means that your pet has the ideal opportunity to zoom out and onto the street....
And that could be disastrous..... So be sure to secure your fur baby in a safe way to prevent this from happening.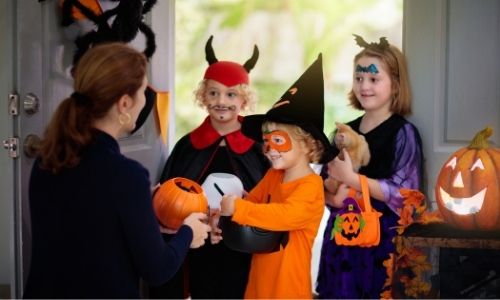 4. Calm Stressed Pets with a Pet Treat or a Dog Treat.
Dog Treats and other pet treats are a great way to keep those frayed nerves under control during the evening of strange comings and goings.....
Huds and Toke Pet Treats have a range of Halloween themed Dog Treats however, Huds and Toke also have a wide range of other long lasting chews which can help keep dogs from freaking out.
5. When Dressing Your Pet Up for Halloween, be careful.
There's no doubting it, dressing your pet up for Halloween can make them look pretty cute.... Just remember though, they aren't really supposed to be wearing clothes! So be sure to understand that this may make them stressed or confused.
A confused and stressed pet can be unpredictable.
You don't want them taking off in fright and tripping on their costume thus hurting themselves.... Or worse, turning on you, or a trick-or-treater, in anger!
Why not do a practice before the day and see how they handle it???
And of course, if you are taking them Trick-or-Treating with you, please ensure they are on lead at all times!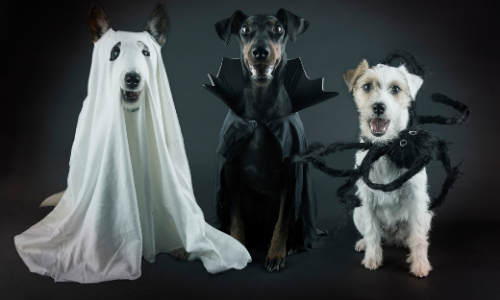 Have a great Halloween celebration.... Take care of your wonderful pets and above all, Have Fun....
Happy Halloween and please take some photos of your Halloween Adventures with your Pets and tag us in on our socials.
@hudsandtoke
#Hudsandtokefamily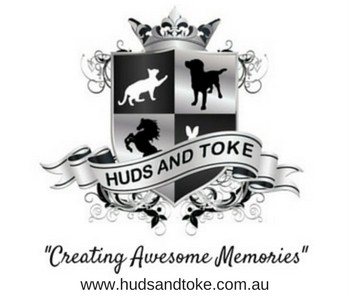 PS: Please take the time to give us a Review on Google.