Posted by Russell Gibbons on 10th Aug 2021
Huds and Toke Gourmet Dog Treats are excited to announce that they have partnered with one of the most iconic brands in society today.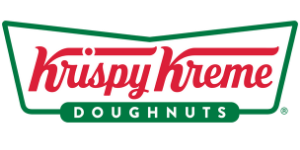 Krispy Kreme Doughnuts have a long history, and are an extremely well-respected international brand, which was founded in 1937.
Lets face it, who doesn't know about their world famous super tasty doughnuts? They just taste soooo good!!!
They are a global phenom whom take pride in the quality of their products and strength of their brand.
Now, this world-famous brand has partnered with Huds and Toke to create their first line of Krispy Kreme Inspired Doggie Doughnuts….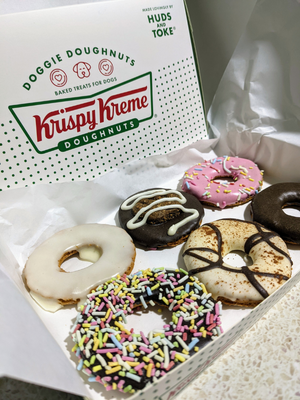 It makes sense when you think about it!
The team at Huds and Toke take enormous pride in creating their amazing products just as the team at Krispy Kreme do.....
Huds and Toke is a global brand which represents exceptional quality, and produces world class Pet Treats, so it makes perfect sense that these two teams have joined to create an exciting partnership.
Both these world class brands aim to bring Krispy Kreme Doughnut lovers a similar experience for their pets.
We aim to encourage you to "Share the Moment" with your pets when you take a well deserved break, and enjoy a coffee and a doughnut.
Further to this, both teams want to help celebrate INTERNATIONAL DOG DAY and want to recognize the importance they play in our individual lives, as well as in our society...... Especially with the ongoing trials and tribulations we are presently experiencing around the globe!
The Huds and Toke Doggie Doughnuts, inspired by Krispy Kreme, have been designed to look exactly like the world famous doughnuts which we are so accustomed to enjoying.
Now, you can enjoy your favorite Doughnut and coffee, whilst your puppy can also enjoy a Doggie Doughnut Dog Treat at the same time…..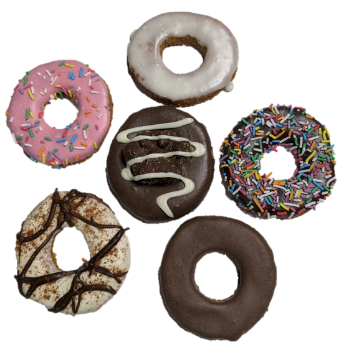 Each and every Doggie Doughnut is made by Huds and Toke right here in Australia and are specifically designed for dogs.
They are healthy and look amazing....
Carob is used instead of Chocolate and the Huds and Toke Proprietary frosting is applied to give it that groovy look.
They are 100% Australian Made with NO Artificial Preservatives or Artificial Flavours added.
Low in sugar and fat, these Doggie Doughnuts Baked Dog Treats are made by Huds and Toke Gourmet Pet Treats are an awesome opportunity to share the moment with your dog and help create awesome memories……
Your puppies will do ANYTHING for some Krispy Kreme Inspired Doggie Doughnuts by Huds and Toke!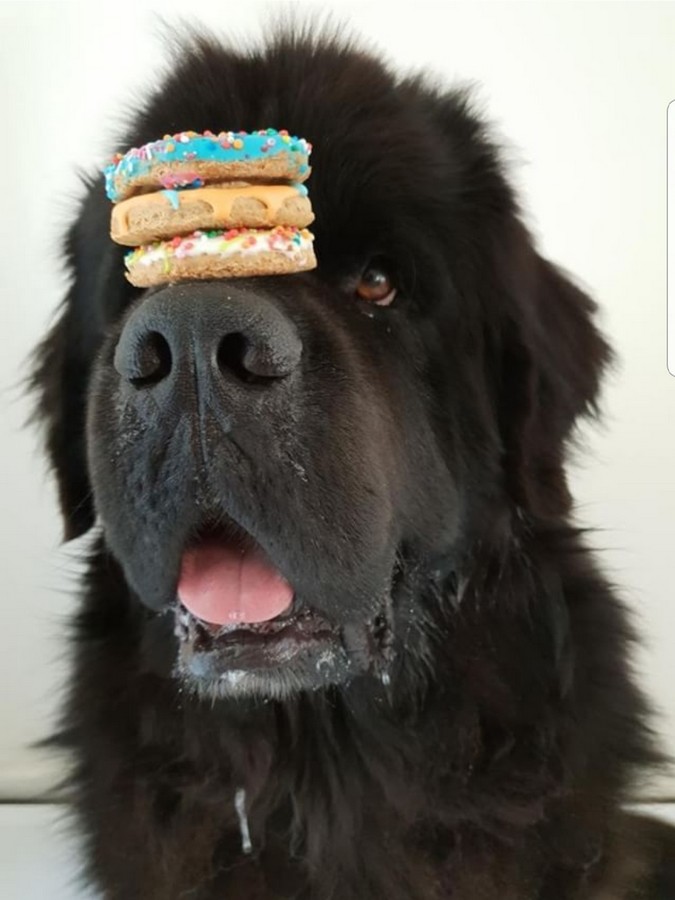 So go online to Krispy Kreme, or Huds and Toke, and get your Krispy Kreme Inspired Doggie Doughnuts now……
Make sure you take some photos and then share them on our socials.
Tag us in and we'll do our best to give you a shout out…..
After all, we love seeing the dogs of the world "sharing the moment with their owners and creating awesome memories".
@hudsandtoke
#hudsandtokefamily
@krispyaustralia